"What's for dinner?" Those are the three words heard 'round the world as evening approaches.
"What's for dinner?" Those are the three words heard 'round the world as evening approaches.
If your answer is "Supino's!" you've suddenly become very popular.
When it comes to Italian cuisine, no one in the area does it better. We've had plenty of practice, in as much as the Supino Family started serving customers nearly 50 years ago.
Some might claim they "have it all," but Supino's doesn't because that could never be true. What we can say with great conviction is this: Supino's Italian Cuisine rules in this region. One reason is the breadth of offerings. In addition to our regular menu, we feature a rotating line up of innovative daily specials, including Veal, Chicken, Pasta and Fresh Seafood favorites like Baked New England Haddock, Haddock Florentine and the Fisherman's Platter.
Fans of beef have numerous options, as well. We have Baby Back Ribs, Steak Tips Marsala, and specials like Grilled Sirloin and Short Rib Steaks. They're prepared with perfection in mind. The beef is exceedingly tender and succulent. And the portion sizes give you plenty to chew on.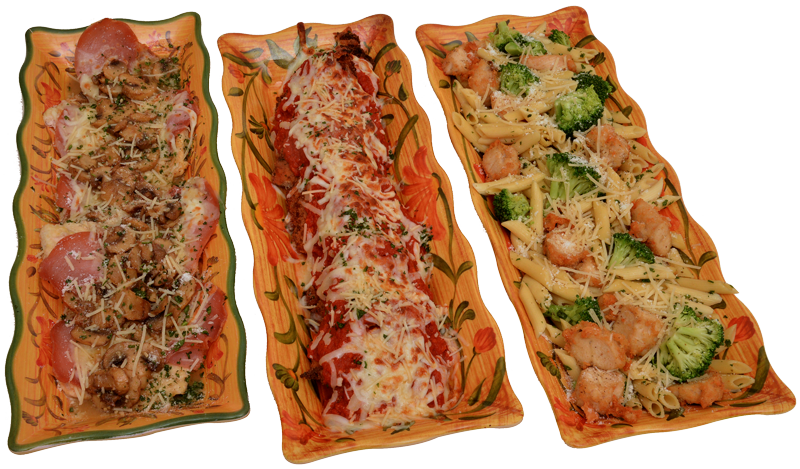 The Hanover Street section in our menu is home to some of Supino's zestiest dishes. A prime example? Mo's Sausage Pepper and Onion has chunks of sweet Italian sausage, red and green peppers, and sautéed onions, all stirred into Supino's own tomato sauce, tossed with Zitti and topped with mozzarella.
Weeknights at Supino's have a lot to offer. Every Monday and Tuesday, there's "Spin & Win." Everyone receives a ticket, and every 15 minutes we pick one. You can win cash from $5 to $100, T-shirts, free pizza, and gift certificates. Every Thursday and Sunday, we have "Spin & Win" all over again. You can win a free MA Lottery Scratch ticket valued from $1 – $20. No risk – and possibly a reward. Thursday is also the night we bring out the 2 for 1 Chicken Parmigiana.
Sundays in fall mean the New England Patriots. Far and away the most dominant team over the last 15 years in the NFL, our restaurant gets behind the Pats. Every time they score, our wheel is spinning for winners. Appetizers are half priced at halftime, and our wing special gives you 12 for $5.99. Want to come back for more free food? We run a free buffet at halftime on Monday Night Football.
If you're hanging out at home, don't forget we deliver for free to Danvers, Middleton or Topsfield, as well as parts of Beverly and Peabody, Massachusetts.